Atrocity at Yu Long Long, Titi 血 洗 余 朗 朗 by CK Chan
Kuala Klawang, capital of Jelebu district, is now 40 minutes' drive northwards from Seremban after zigzagging up and down numerous green hills and mountains. Yu Long Long is another 5 miles north of Kuala Klawang at the southwest of Titi town. Over sixty years ago it was surrounded with beautiful hills, full of fresh cool air and fertile soil, producing ample pineapples, bananas, sugarcanes, rubber and tin. Two hundred families of industrious farmers and tin miners lived here satisfactorily.
Unfortunately this rural community was once active in anti-Japanese campaign and thus suspected as hideout of anti-Japanese elements. It was sadly black listed by evil spirit into one of the thirty over locations doomed to hell.
On March 17, l942, about a hundred murderers arranged by pioneer soldiers and Chinese traitors, were ordered to rush up from Seremban to Kuala Klawang at night on bicycles. Next morning the villagers of Yu Long Long were all surrounded.
On the pretext of mutual conversation, the officers cheated all villagers to assemble at the field of Yik Cheun School, separating them into groups of 10 to 20. Then they were guarded group after group by murderers to distant empty houses beyond hearing. God! At different houses, they were killed by sharp bayonets in terrible scream not heard by the assembly, thus avoiding mass rebellion. Anyone tried to escape would be shot dead at once.
The Japanese terrorists committed unprecedented crimes in state N.S., slaughtering 1,474 innocent villagers of young and old, burning down all their houses, turning a happy land into hell within one day.
A farmer family of 9 lived there. That morning terrorist officers called in to check on the family list.
"One Siow Kuan Sang is missing. Where is he?"
He has …gone for farming," replied the frightened member.
"When does he come home?"
"I don't know."
Soon after, Siow Kuan Sang, 31, came back. The Japanese completed checking, ordering the family to go for assembly. The school was fully packed with people, noisy and restless. Being watched by the cold blooded army who were ready to kill, the people could only be obedient.
Kuan Sang observed none came out of the houses over a distance. He knew what would happen to his group, feeling cold with fast heart beat. When his group of 13 was guarded into a timber house, he sensed his end time. In desperation he could only pray hard for a miracle with his poor son Tian Yong, 4 in his embrace.
The guards searched them thoroughly. Failing to find any hidden weapon or jewel, the chief ordered them to kneel down. Pop, the miserable lambs fell to their knees when shining bayonets were aiming at their backs.
"Kill!" screamed the chief. At once all bayonets pierced madly into their backs, once, twice and many times more.
"Papa! Papa! …Aw! …"cried little Tian Yong.
"Mama, mama … Aw!"
"Aw! …"
Desperate screeching, screaming and struggling for a moment, the defenceless folks collapsed to their deaths one by one in dreadful blood stream. In death silence, the killers left hurriedly for another similar execution. For nearly 1,500 lives, the hundred over executioners had to repeat the ugliest crimes at least 5 times.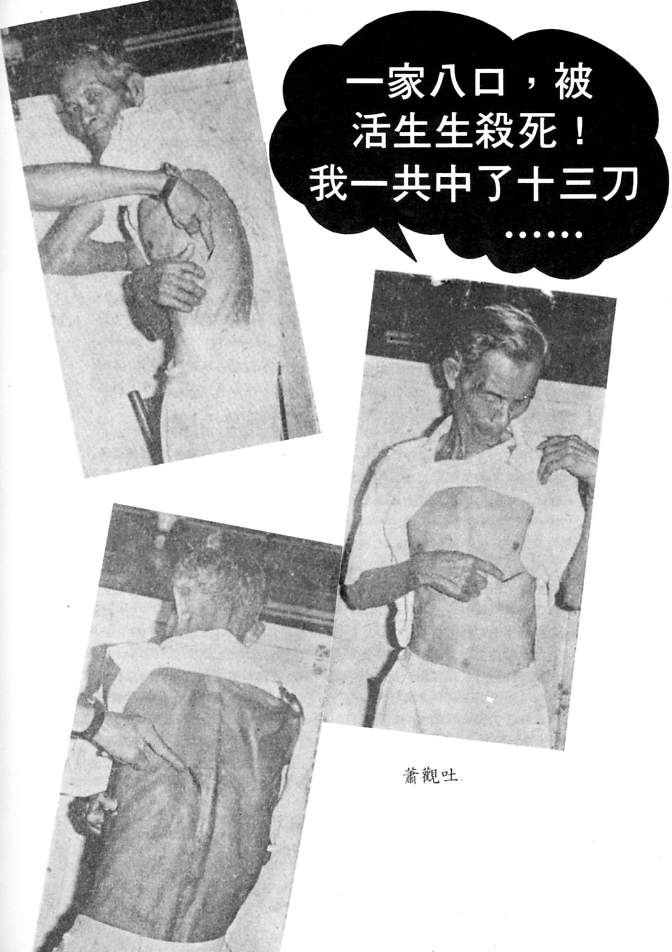 Kuan Sang had 13 stabs at his back, shoulder, loin, buttock …Soaking all over in blood, he lost his consciousness. May be due to his toughness and will power, he tolerated great pain, maintaining his heart beat. A real miracle. His soul being rejected from hell, Kuan Sang came back to himself with painful wounds still breeding.
"Aw … Kuan Sang … you're alive?" groaned his neighbour Siow Lian who had many stabs too, refusing to die.
"Ah … it's you." Kuan Sang was very weak.
"Get … out of here, we'll finish … on return of the devils…"
Kuan Sang left sadly the bodies of his son and others, struggling hard with Siow Lian to creep out of the earthly hell, disappearing into bushy greenery with great effort.
By noon, most of the villagers had been killed, but the beasts did not leave off then. They carried on ambushing the left out to come back after quick meals. In the evening, after thorough mass murder and robbery, they proceeded to third step of thorough burning, setting fire on all houses. It was a horrible earthly hell with flaming buildings breaking down, screaming of survivors in fire. The violence had gone to its extremity. At night, the Heaven roared angrily with thunders and cried with heavy rain. Though fire was put off, but hatred of people against the Japanese started to burn on.
Poor Kuan Sang was too sad to live on, realizing his mother, wife, two sons, brother and his family were gone. Some of them might have hope to survive given first . However the devils were searching for further victims. Being half dead himself, what could he do besides weeping?
He suffered the whole night, burning his remaining energy to struggle on to roadside, lying there unconscious. Next day at noon, he was discovered and saved by Chong Heong on his way back to Yu Long Long from Seremban. Chong's son and daughter were burnt to death. His wife Wong Moi escaped with bad wounds in miracle.
Notes:
Source of 'Atrocity at Yu Long Long' - Page 44 of "History on ordeal of Chinese, N.S. in Japanese Occupation" 日治時期森州華族蒙難史料 according to survivor Mr. Siow Kuan Sang
蕭觀生 on interview by Mr. Teh Kim Swee 鄭錦瑞 in Oct. 1975, published by N.S. Chinese Assembly Hall 森美蘭中華大會堂出版.
Out of the 9 Federal States of Malaya and 3 settlements of Singapore, Malacca and Penang, the atrocities happened to the state of N.S. alone involved 37 locations with Chinese victims searched out to more than 4,500 people, mainly:
Location No. of Victim
Yu Long Long, Titi 1,470
Parit Tinggi 675
Sg. Rui, Bahau 368
Ban Chuan Estate, Pedas, Rembau above 300
Teh Estate, Pedas, Rembau above 300
Ban Hock Estate, Lenggeng, Mantin above 200