A visit to Parit Tinggi massacred victim's Monument in Year 2004
Each year, Chinese from all walks of life pay respect to their loved one's who passed away. This special day is called "Qing Ming". People of Kuala Pilah has no exception. They clean and tidy up the area around their love one's grave, offer food like roast pork, dumpling, vegetables and fruits. They burn incense in front of the grave and pray.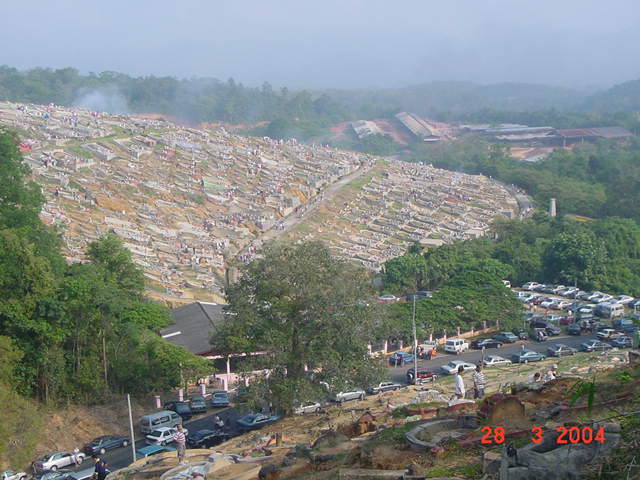 At right hand side of this photo stands the monument for 675 innocent young
and old human being massacred at Parit Tinggi in 16 March 1942. They are now "living" next to
Kuala Pilah people who passed away less brutally than their death.
The injustice done to the massacred victims draw immeasurable sympathy.
In its usual manner, Japanese government played down the issue.
So far no compensation is awarded to the victim's family.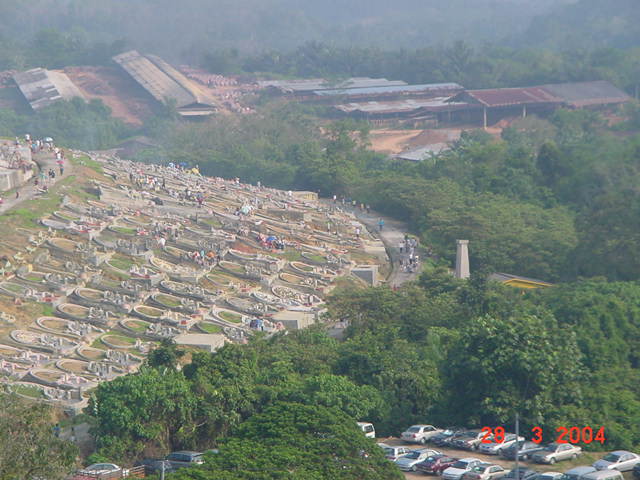 Prime Minister elect Mr Junichiro Koizumi continued to visit Yasukuni Jinja despite its
strong protest from China and Korea. Yasukuni shrine is home to many genuine
Japanese heroes but also houses their Class-A war criminals from the Second World War.
The annual worship of the war criminals are viewed as support for Japanese militarism
and insensitive to the victimized countries like China and Korea, not to mention
many other countries like Malaysia, Singapore, Philippines, etc.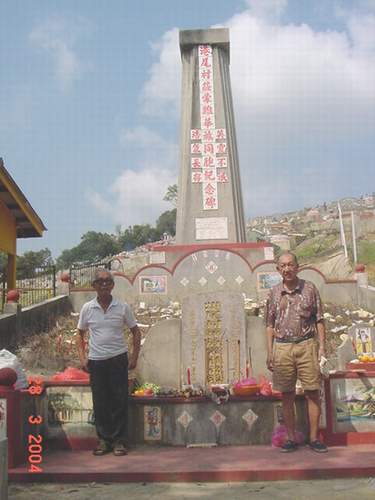 Lim Soon Swee and Lo Meau Chong of Kuala Pilah are not related to any of the
massacred victims but they pay respect to them every year without fail.
A small consolation to the deaths that after 62 years, there are people in this world,
other than their relatives, still remembered and loved them. They did not overlooked their "welfare" while living in another world. Both kind hearted gentlemen "burnt" tens of pair of paper shoes, believing the deaths will have a pair of new shoe for a new year ahead !